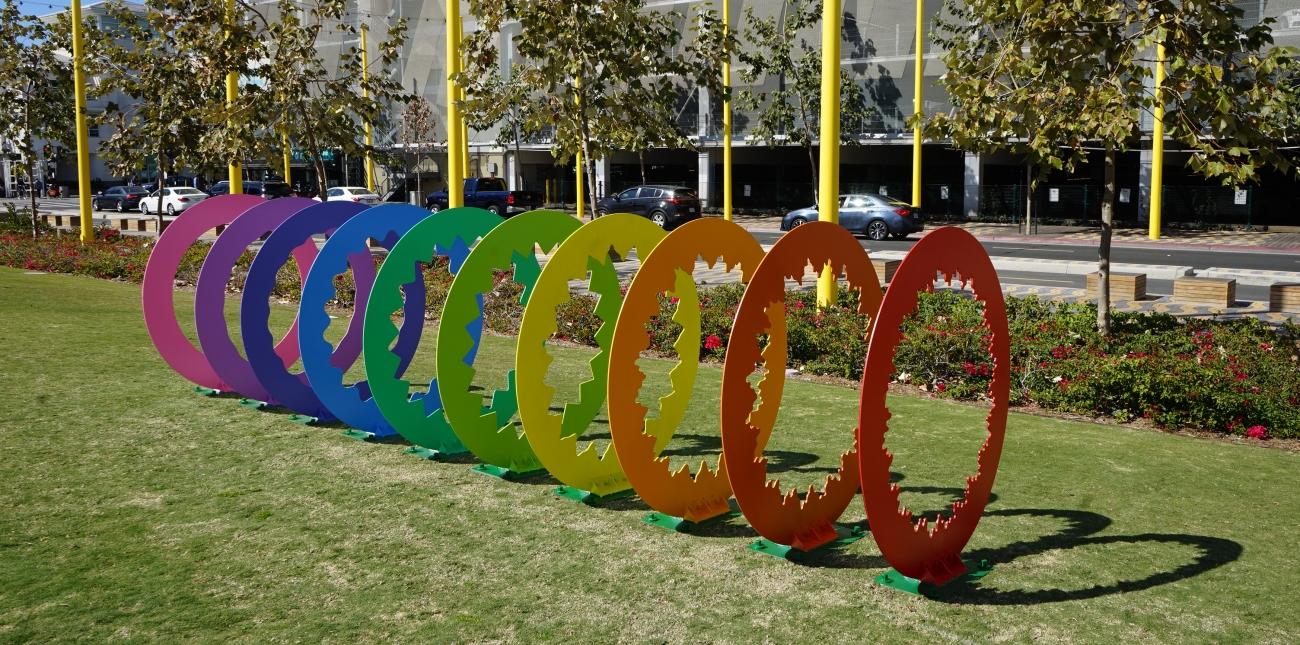 February 22, 2018
Visual Artist Jen Stark Tunnels into Downtown Santa Monica with 2nd Largest Sculpture To-Date
"Tunnel Vision" Displays Changing Color Gradients Based on Viewer Perspective
in a Series of 10 Rings on Downtown's Triangle Square
Downtown Santa Monica, CA – (Feb. 27, 2018) – The portal is open. Los Angeles-based visual artist Jen Stark has brought her vibrant fractal-bending, pattern-echoing artistic style to the public in Downtown Santa Monica's Triangle Square. Installed Wednesday, February 21 and on view through the late-Spring, the outdoor sculpture titled Tunnel Vision is Stark's second largest and uses repeating rings to present both polychromatic and monochromatic visual systems in one dynamic piece. The addition is the latest installment for DTSM, Inc. and the City of Santa Monica Cultural Affair's public art initiative ROAM Santa Monica, created to activate the public realm and expand cultural offerings in Downtown Santa Monica. Stark's art is featured at institutions across the globe including the Smithsonian American Art Museum and the Museum of Contemporary Art (MOCA) in her hometown of Miami, FL.
"Santa Monica residents have consistently and enthusiastically supported art in open spaces, and we are thrilled to see how this new public artwork creates a vibrant public space for residents and visitors to enjoy. The Arts Commission is excited about this partnership between the City's Cultural Affairs Division and Downtown Santa Monica Inc., as it allows us to maximize our resources to bring more art to our great city," said Mike Myers, chair of the Santa Monica Arts Commission.
Tunnel Vision is an optical double entendre comprised of a 20 ft. linear series of 10 waterjet-cut steel aluminum rings, each 5 ft. in diameter and coated with a metal semi-gloss paint. Onlookers can experience Stark's signature kaleidoscopic style in rainbow or black and white, depending on which side of the installation they're engaging. The shifting gradient of circles and colors revealed in aligning the sculpture's rings explores Stark's musings on nature and patterns in evolution, geography, and sacred geometry. Tunnel Vision extends through time and space.
Triangle Square is located on the Colorado Esplanade and Third Street, adjacent to the Sears building and Santa Monica Place. This work is part of the City of Santa Monica Cultural Affairs' Percent for Art program, which is overseen by the Santa Monica Arts Commission and its Public Art Committee.
About the Artist
Stark was born in Miami, Florida in 1983 and received her BFA from Maryland Institute College of Art in 2005, majoring in fibers with a minor in animation. Since then, Stark has realized exhibitions globally, with major shows in New York, Los Angeles, Miami, Chicago, Thailand, and Canada. Her work is in the collections of the Smithsonian American Art Museum, the West Collection, Crystal Bridges Museum of American Art, the Museum of Art Fort Lauderdale and MOCA Miami, among others. Her artwork is driven by her interest in conceptualizing visual systems to simulate plant growth, evolution, infinity, fractals, and mimetic topographies. Stark strives to make work that balances on a razor's edge of optical seduction and perceptual engagement. The resulting works often resemble organic, molecular, cloud-like structures, and are imbued with kinetic, undulating effects that serve to dislocate the viewer from staid reality into an immersive ecosphere of echoing patterns and the implausible designs found in nature.
Downtown Santa Monica, Inc.
1351 Third Street Promenade, Suite 201
Santa Monica, CA 90401
http://downtownsm.com/
310.393.8355
Media Contact: Jeff Wagner Agency
Ryan Porter: Ryan@JeffWagnerAgency.com
323-461-1011
Learn more at Downtown Santa Monica's new blog: SantaMonicaCentric.com
About Downtown Santa Monica, Inc. (DTSM, Inc.)
Downtown Santa Monica, Inc. is a private non-profit 501c(3) that works with the City of Santa Monica to manage services and operations in Downtown Santa Monica that promote economic stability, growth and community life within Downtown Santa Monica. DTSM, Inc. manages the Property-based Business Assessment District (PBAD) that encompasses the area bounded by Ocean Avenue (W), Wilshire Boulevard (N), Lincoln Boulevard (E) and the Santa Monica Freeway (S). For more info, please visit DowntownSM.com or visit us on Facebook at www.facebook.com/DowntownSantaMonica
About City of Santa Monica Cultural Affairs
Santa Monica Cultural Affairs brings the City's art scene to life for residents and visitors by supporting engaging and accessible cultural events for all ages throughout the year. Cultural Affairs nurtures local arts organizations, promotes artist involvement in the community, manages the landmark Santa Monica Civic Auditorium and presents and produces innovative programs citywide at the Annenberg Community Beach House, the historic Miles Playhouse, the Camera Obscura and in the city's parks, enriching Santa Monica's reputation as an international cultural destination. For more info visit smgov.net/arts.