 Recurring Event
→
BOY VEY! – A Santa Monica Playhouse Jewish Heritage Series/Hysteria Productions in-person world premiere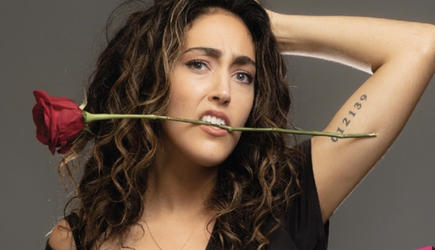 Date & Time
7:30 pm – 9:00 pm
Saturday, September 11, 2021
Saturday, September 18, 2021
Saturday, September 25, 2021
Saturday, October 02, 2021
Saturday, October 09, 2021
Saturday, October 16, 2021
Saturday, October 23, 2021
Saturday, October 30, 2021
Show Additional Dates
Location
Santa Monica Playhouse
1211 4th Street
Santa Monica, CA
90401
Contact Info
BOY VEY is not "based on a true story."
It is a true story, the story of how a Jewish girl's quest for love unveils the bizarre connections between her misbegotten dating life and inherited Holocaust trauma.
This humorous, touching and powerful theatre piece is written, performed and lived by Rachel Kaftan and directed by Dana Resnick. RACHEL KAFTAN is an LA-based theatre artist. She grew up in rainy Seattle, the only child of two lesbian moms and a gay dad and came out to everyone as "straight" when she was seven years old.
Past theatrical highlights include playing Tevye in an all-girls' middle school rendition of Fiddler on the Roof and Fetch, a rabid, hyper-sexual reptilian-esque dog butcher, in an avant-garde production of Spring Awakening. During summer of 2020, and the height of the pandemic, Rachel became a RAINS Undergraduate Research Fellow for her studies on the trends and effects of intergenerational Holocaust trauma. That work, combined with her theatre major and Jewish background, is what led Rachel back to her childhood bedroom of fears: in the form of an autobiographical one-woman show all about love, coming-of-age, and the Holocaust.
DANA RESNICK has been directing nationally for over 15 years and is the recipient of the Stephen Bochco Award in Directing and the John Jutkowitz Award for Outstanding Achievement in the Performing Arts. Most recently, she developed and directed the world premiere production of Sisters in Law by Jonathan Shapiro at Phoenix Theatre Company. Now celebrating 61 years of continuous theatrical services to the community, SANTA MONICA PLAYHOUSE is an internationally acclaimed professional intimate theatre located in the heart of downtown Santa Monica. It's JEWISH HERITAGE PROGRAM creates and curates experiences that honor the unique richness of Jewish theatre alive and the historical and cultural importance of Jewish heritage.